TWS –Hi Lisa, can you tell us something you'd like readers to know about you?
LB –Although I always made things, I didn't go to art school until I was in my 40's. I loved working within the constraint of an assignment until I didn't. There I discovered drawing and oil painting. And then paper. Collage, appropriately, combines a lot of what I love: treasure hunting, thrifting, old books, magazines, re-using, tactility, art history and materials and methods. I think I've ranged between maximalism and minimalism, but I keep going back to a grid or weave pattern. I'm envious of artists who can explore an idea for years, something I can't seem to do. After 5 or 10 or 50 variants, I'm bored and move onto something else. Sometimes I put an idea on vacation for a while, then return to it a few years later. Sometimes a series is limited by the availability of the source material. I don't sketch things out or keep a journal. Sometimes I think about making a particular something for months, and then execute it. I also make ceramics, porcelain vessels. That's on hiatus, thanks to Covid.
TWS – I have to be honest with you: I found your collage work on Instagram and then discovered the amazing Loyola_condenser story. Can you tell us something about the Loyola Condenser project?
LB –At the time I started documenting the condenser, I lived in an apartment in Chicago overlooking Lake Michigan (now I live in New York City). A good artist friend of mine encouraged me to open an Instagram account, and actually opened one for me. I thought about what to do with it, and documenting the changing lake and weather seemed like a good idea. And the contrast between the sublimity of the lake with the banality of the condenser that sullied it was amusing to me. (A condenser is the outdoor portion of an air-conditioning system, and this one was HUGE and atop a Loyola University building.) I posted one photo or video of the condenser every day which documented the different weather conditions and the random visitors that showed up in the picture field. I grew to love the condenser and viewed him/it as sort of a dispassionate witness of the world. It went from being a blight on my landscape to being a means for me to more deeply engage with my surroundings. At the time I started the account I was working in the health insurance field and frequently met with attorneys, etc. I needed my feed to be anonymous. But I ended up meeting a number of people (many who later became friends) through that project and had a show of some of the photos at a small Chicago Gallery, Lawrence & Clark (now closed due to Covid). Sadly, the university never let me get up close and personal with my muse; it was always love from afar.
TWS – What attracted you to the Peter Doig trial? Why did you get that involved?
LB –I read about the whole Ann Freedman/Knoedler/forgery scandal and thought that I would have liked to attend that trial in New York. In my job I'd been involved in a number of mediation proceedings with attorneys and judges and found that whole process fascinating. Peter Doig had been sued by a Canadian prison guard and the guard's print dealer/attributor for refusing to acknowledge a painting that Doig did not paint! Which was astonishing to me. I had recently retired and I was looking for something interesting and the trial was in Chicago. I went on the second day, and I started taking notes to try to figure out what was going on. At the end of that day I wrote up my notes for my daughter and then thought that my IG followers might find it interesting. So, I went every day and took notes and posted a summary on my feed. It was the first trial I'd ever attended as an observer and it was like 10 hours of jaw-dropping theater every day. I was surprised that no paper was doing daily coverage and that the courtroom had barely any other observers. I ended up meeting Peter Doig, and Gordon VeneKlasen from Michael Werner Gallery and most days I lunched with the New York Times Chicago stringer. It was an absorbingly invasive experience which disturbed me. After several days, I confessed to Peter Doig that I'd been posting my trial notes but he turned out to be happy to be able to refer his friends and family to any written account of the daily proceedings. From the beginning I was dumbfounded at the lunacy of the lawsuit and that the judge ever allowed it to proceed to trial. I am still amazed, because after Mr. Doig prevailed, he sued for repayment of his astronomic court costs and the same judge who allowed the trial to move forward has delayed in issuing a ruling for over two years.
TWS –I LOVE your latest paper weaving works. There's a pattern that can be found in many of them: a typewritten text as background and elements of everyday life woven together. Can you expand on the idea of this series of collages?
LB –This series is composed of foodstuff labels woven into pages in an old found Master's thesis. I'm drawn to projects that have an incremental aspect. I like series. I like work that can be easily picked up and put down. I like working with found ephemera (treasure hunt!) and multiple media. And then Covid. And obsessing about getting groceries without endangering one's life! And how getting groceries became a central focus of life for a time. New York City was the epicenter of the pandemic and it was very scary here with refrigerator trucks full of corpses parked outside the hospitals.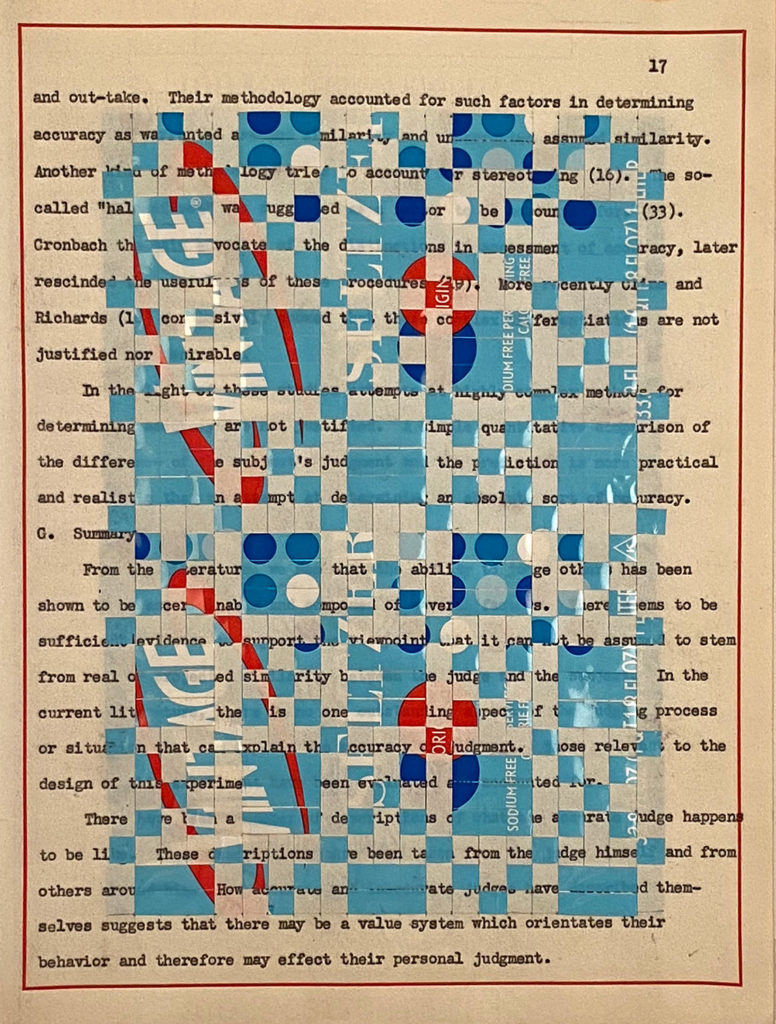 My paper weaving started with a series of woven paper collages I made from an old yearbook I found in a thrift store. I started collaging pages together and then started weaving two pages together, thinking about the idea of memory, mutability and transience. Then I started collecting yearbooks, always old ones and preferably ones that were a little offbeat. I used to find them in thrift stores and book sales, but they don't exist much anymore, so I am left with eBay. Which can be a great source. My favorite yearbooks are a series of 1950's books from a school of Osteopathy in Missouri.
I am also in love with wallpaper sample books from the 1960's-80's. The high-end ones that are hand screen printed. I found a bunch at an interior decorator's going-out-of-business sale and I figured I'd discover a use for them one day. I'm always looking for more on eBay. I've done a series of mixed media collages and a series of weaving paintings on wallpaper pages.
I've also gotten into collecting 18th century painting books, collaging plates with fashion magazine eyes and weaving postcards together. Go Watteau!
TWS – Your medicated series also struck me. What's the story behind these pieces?
LB –I found a spool of Japanese Washi tape in Japantown in San Francisco a number of years ago. I loved those tapes and figured a use for them would declare itself. I also had found a huge stockpile of PDRs (Physician Desk Reference) in a library at work. There's a section in these books that has life-size color photos of every US-available medication; physicians can identify an unknown pill using this photo key. I tore out all the pill photo pages and hung onto them. Eventually the tape and the pills met each other. I'd had the idea of making a collage without a ground. And the tape tapestries evolved from that. Each pill is taped to its adjacent pill. They hang freely like a lace tapestry. I still have a ton of these paper pills. I cut out hundreds of them on a cross country flight, my seatmate must have thought I was insane and self-medicating.
TWS – Can you tell us about how and why you started working with collage?
LB –I went to art school about 20 years ago. We had to make 100 drawings in a sketchbook each semester. I got a little tired of drawing and started making collages in my sketchbook. I found it an easy medium in which to work as I could pick it up for only a couple hours or minutes a day. Unlike oil painting which didn't really work for a single mom who worked full-time.
TWS –How do you see collage nowadays in the context of contemporary art?
LB –I'm not sure I do see a huge amount of collage in contemporary art. My kids work in the contemporary art arena (journalism and collection management) and I'm fascinated by that scene. I don't see much collage in that market or in galleries. I'm always happy to come across work on paper or collage that interests me. But I don't intentionally seek it out, as I don't want to be subconsciously pulling from it.
TWS –And, finally, a question that all our interviewees answers: What's your definition of collage?
LB –Putting at least two things together. Doesn't have to be paper, obviously.
Thanks for asking!
Find more Lisa Barense at her Instagram profile